Rust Repair
01-08-2018, 04:39 PM
Rust Repair
---
Hi,
What would be the best way to repair this? It is the rear passenger corner on my 2008 F-150 SuperCrew. I can almost fit my hand inside. I'm not an auto body mechanic, but I do learn quickly. I've seen many how-to's on YouTube and everyone seems to have their own way of fixing rust problems. I know I have to remove the rust with a grinder and take an area of paint around the rust down to bare metal. I have the tools to do that, but I do not have welding expertise or tools. I could do Bondo and fiberglass but the gist seems to be that those types of repairs do not last long if at all. I'm also allergic to fiberglass resin. I know I should probably take this to a pro, but if I could afford that, I wouldn't be trying to fix it myself. I certainly don't want this to spread and get any worse.
Any suggestions would be great
Thanks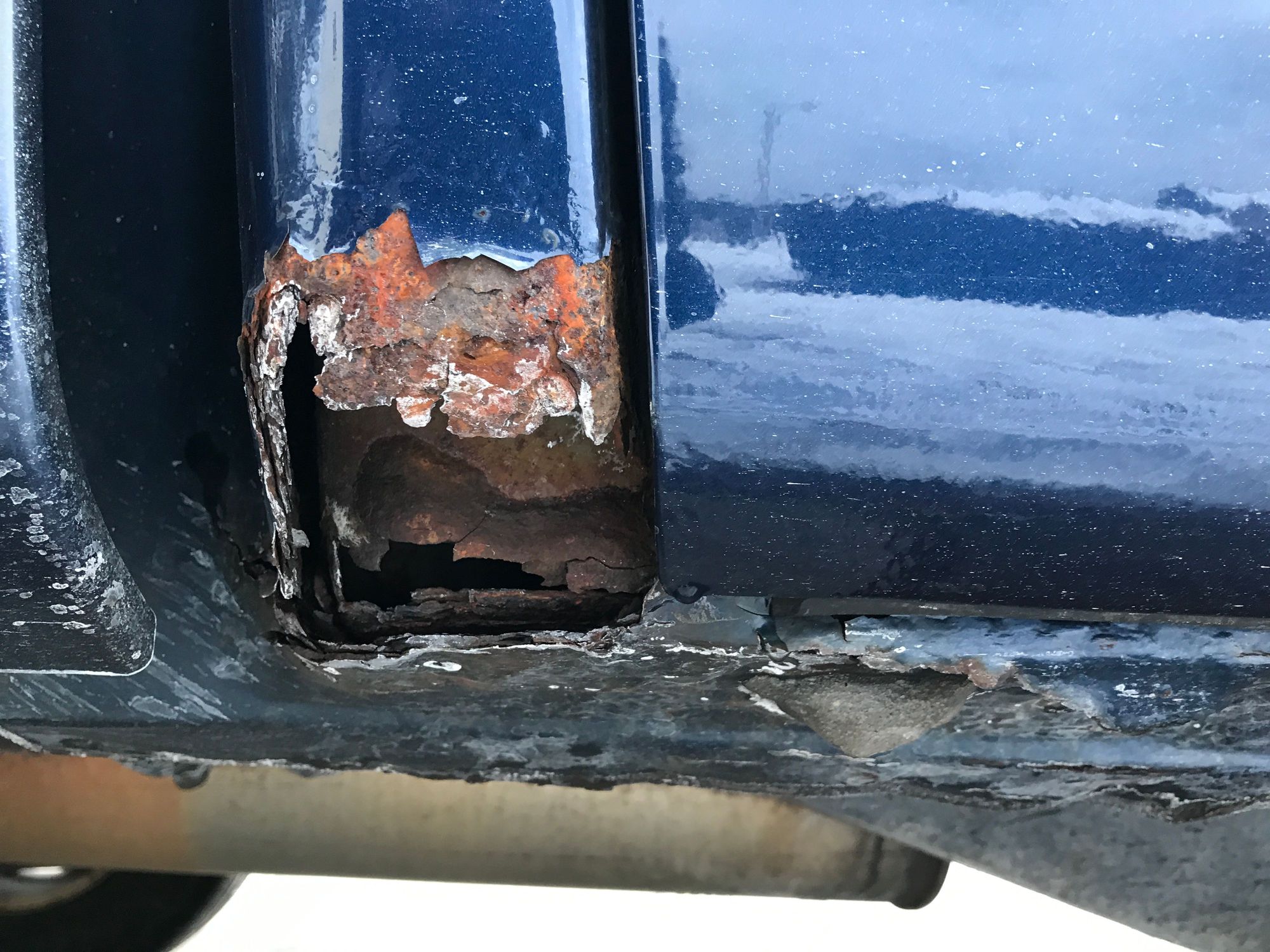 It's only getting worse
01-08-2018, 11:27 PM
Technical Article Contributor
Join Date: Jan 2007
Location: Vernon, NY
Posts: 7,661
Take it to a pro!
I had rust perforation on my truck, and last summer I took it to a bunch (yes, finding someone to work on rust is hard to find) of body shops.
3/4 of body shops didn't want to touch it -- first thing they asked/said, "Was it related to a collision?" or "We only deal with insurance claims.", or finally the most common "We don't have time for you!".
Which is their prerogative, you don't give up, you keep searching...
If you do research and some driving around (yes, driving around -- NOT calling around), you will yield better results when folks can look at it, instead of trying to explain it over the phone. It also builds rapport, showing you actually care for your vehicle. Anyone can call, saying "Blah, Blah, can you fix my rusted out POS, blah, blah...?!!".
I had all my rust, dings, and dents and a PTM bed liner put in for under $2k. They even when above and beyond the "factory" paint, but doing rust protection and strengthening in key areas.
They also didn't "bondo" or fiberglass anything. In fact, I had a minor fender bender a few years ago, where a previous shop told me they replaced a panel and in fact, they fiber glassed it! They cut it out and showed me.
This shop would get a plasma cutter or sawzall and cut out the offending sheet metal and re-weld in new pieces.
The shop didn't use "eco-friendly" paint... they used the good stuff.
The shop took pictures and saved all of the cut out pieces to show me when I paid them -- so there we're no discrepancies.
Not to mention, the shop invited me to stop by whenever to look at their progress.
The name of the shop I had do it was Randy's Detailing and Paint in Clinton, NY. He used to work in the bus industry fixing - yup you guessed it -- rust problems on buses and commercial fleet.
I plan on bringing him my Compass next year to do some rust repair on that.
All I can say is my truck looks like new.
Here's some pics: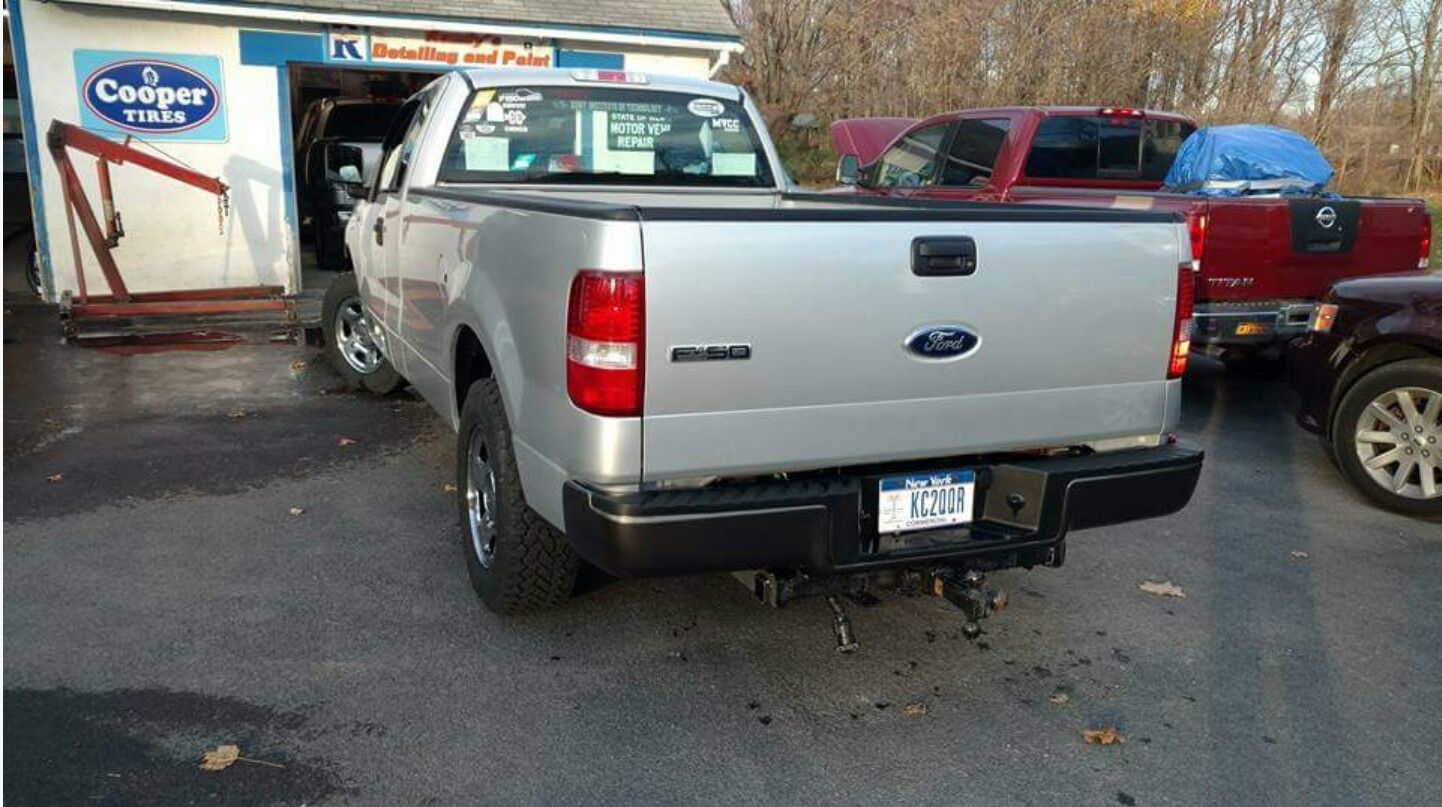 01-09-2018, 12:43 PM
Thanks!
---
Thanks for the detailed reply. The shop you chose looks like it did some great work. Unfortunately, I don't have the money to go to a pro. They'll want thousands and I just cannot come up with all of that at once (I don't use credit cards. It's weird. I know...). The guy I usually take my vehicle to said not to worry about it which echoes into what you had mentioned that most places won't even touch something like this. Can't say I blame him. Something has to be done about this, but I cannot afford to fix the rust, nor can I or want to replace the vehicle either.

Thanks again!

Cheers
01-09-2018, 04:09 PM
If you just want a quick down and dirty cheap way to cover the hole, order some of this:
Amazon
Clean and sand the area around the hole as best you can, then use this over the hole and paint it with rattle cans. Use primer for aluminum first.
If you want to make it look better, then you can use Bondo over it.
01-10-2018, 12:01 PM
Join Date: Jul 2008
Location: North Carolina
Posts: 269
01-10-2018, 05:20 PM
Thanks!
---
I don't really like going half-in on anything I do, but I have to work within my means. My main goal is to stop the rust from spreading and if I can do that without having to replace the entire section, awesome! I'm going to talk to some local folks and see what they have to say. Can't hurt to ask, right?
01-10-2018, 05:48 PM
01-10-2018, 07:04 PM
03-01-2018, 04:13 PM
Join Date: Feb 2018
Posts: 10
I found a video online. This guy just grinds away all the bad rusty metal, then uses spray foam and cardboard to fill in the large gaps.. after drying he cuts the excess foam out and creates a bowl if you will in the foamed area to use bondo and then sands it .. primes it and paints it.. looks like that truck cant even tell. if your looking for a cheap do it yourself method thats they way to go. infact I just bought an 04 with lots of rust but solid frame still and good motor and tran.. going to use the foam method
03-02-2018, 04:11 PM
03-02-2018, 04:24 PM
Join Date: Feb 2018
Posts: 10
03-02-2018, 05:19 PM
Technical Article Contributor
Join Date: Apr 2005
Location: New York
Posts: 805
03-02-2018, 05:27 PM
Technical Article Contributor
Join Date: Jan 2007
Location: Vernon, NY
Posts: 7,661
03-05-2018, 07:36 AM
Join Date: Jul 2008
Location: North Carolina
Posts: 269