Nitto Mud Grapplers on stock wheels
11-11-2006, 06:58 PM
Join Date: Sep 2006
Posts: 1,064
11-11-2006, 07:00 PM
11-11-2006, 07:09 PM
Join Date: Sep 2006
Posts: 1,064
11-11-2006, 07:23 PM
11-11-2006, 08:18 PM
Join Date: Aug 2004
Location: Phoenix
Posts: 1,055
Yep, theres a guy who has them on his stock wheels..

I had a set of the mud grapplers on my last truck (35x12.50x18) They wore very quickly.. I only managed to get 18K miles out of them on my truck.

And incase you didnt know they are extremely LOUD! If your looking for a quite ride you better start looking at some different tires..
11-11-2006, 08:19 PM
Join Date: Aug 2004
Location: Phoenix
Posts: 1,055
11-11-2006, 08:47 PM
Join Date: Sep 2006
Posts: 1,064
11-15-2006, 08:18 AM
That picture is actually my truck. Ive got 12k on those tires now, and dont expect much more than 8k out of them. They are too loud of a tire, Im gonna go with something very smooth for my next tire. It feels like the truck is shutting off at braking and take-offs with these tires because of the tread pattern.
Be warned if you do mount these tires on there, tire companys like discount dont really want you to leave with them. The outside lugs rub hard against the suspension without spacers. It eventually eats through the rubber after a few miles. I had a friend at discount that let me leave them on and drive off after they mounted them.
heres a pic of when they were new.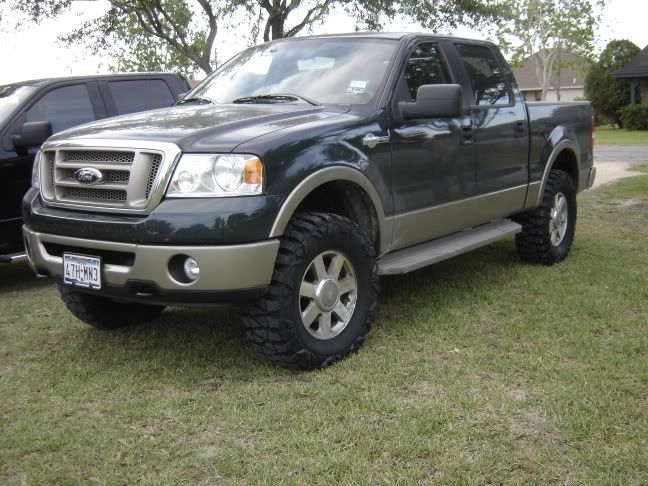 11-15-2006, 01:26 PM
Join Date: Aug 2004
Location: Phoenix
Posts: 1,055
11-15-2006, 06:30 PM
Join Date: Sep 2006
Posts: 1,064
11-15-2006, 09:34 PM
Thread
Thread Starter
Forum
Replies
Last Post
Posting Rules
You may not post new threads
You may not post replies
You may not post attachments
You may not edit your posts
---
HTML code is Off
---