Replacing you rear axle seals and bearings

This helpful guide with ease the process of this difficult task with pictures, detailed intrusions, and tools needed to complete the task.

Read full discussion for further information
How to replace rear axle seals and bearings in your 04+ F150 (lots of pics)
03-07-2011, 01:45 AM
Join Date: Mar 2010
Location: Waukesha, WI
Posts: 122
05-03-2011, 07:55 PM
Join Date: Apr 2007
Location: Rocky Mount, N.C.
Posts: 89
I just rotated the tires on my 04 this weekend and noticed some play in the right axle. Definitely some up and down which is certainly the bearing, but also what seems like excessive in and out. Question is, how much should these axles move in and out? Would a worn C-clip cause this? I want to do the bearing myself, but if I end up needing something else like a new clip, are they also readily available at most auto stores?
07-10-2011, 11:07 AM
Join Date: Jul 2011
Location: alabama
Posts: 4
07-20-2011, 03:45 PM
Join Date: Jul 2011
Posts: 1
---
Excellent write-up!!!!
I was much more confident going into the job with the detailed explanation and photos. Changed my seals out a couple of weeks ago - no more leaks, the differential cover isn't leaking (I was afraid it would and I'd be out 60 bucks worth of oil doing it all over again), and I saved some money by skipping the gasket.
Really appreciate it!
09-02-2011, 11:06 AM
Join Date: Aug 2010
Posts: 138
09-02-2011, 11:28 AM
12-08-2011, 04:11 PM
Join Date: Nov 2011
Posts: 3
12-17-2011, 12:29 PM
Join Date: Feb 2010
Posts: 7
12-17-2011, 04:45 PM
Join Date: Dec 2011
Posts: 1
I want to thank you for posting the process. The passenger rear side of my F150 was making a whining noise it was getting loud. Today I followed the process you posted pulled the rear shaft out and the bearing was bad and damaged the shaft. Pulled the drivers side and the shaft was still good. But since I had it all apart I replaced both shafts and installed new bearings. What was making me nervous was when I pulled the diff pin I had to rotate the diff slightly to pull the pin and when I did the gears shifted a little. Ownce the pin was pulled out I did not attempt to turn it any more. Installed the bearings greased them reinstalled the shafts c clips verfied that they were seated. Then I shifted the tran into neutral and slightly turned passenger drive shaft to get the gears to center on the hole and the pin slid right in. Put a new locking diff pin in. Changed the rear breaks also. Never did this before Fron start to finish about 4 hours.

Cost was $550 to have a shop do it would have cost me $1600.

Thank you !!!!!!!!!!!!!!!!!!
02-10-2012, 09:01 AM
Join Date: Feb 2012
Location: ne iowa
Posts: 2
08-01-2012, 04:59 PM
Join Date: Sep 2006
Location: Suburban Washington DC
Posts: 88
Originally Posted by
Quintin
Okay, with the bearing out, now it's time to go back together. Clean the tube up a little, and start the new bearing with a few light taps with a hammer. I like to put a little clean gear oil on the rollers of the new bearing before installing, but it doesn't really matter.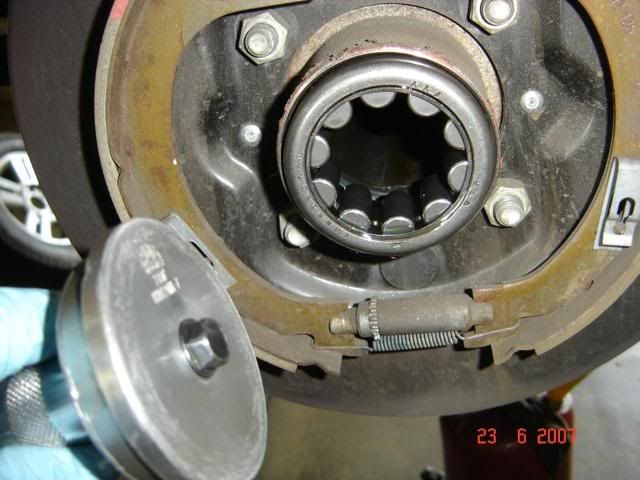 If you have access to a race and bearing driver, now's the time to use it. It'll take a 2.83" adapter to drive the bearings in. If you don't have a bearing driver, no problem, just use the old bearing on top of the new one to drive it home. You'll definitely hear a distinct sound and feel when the bearing is finally bottomed out,
FYI Lisle make a pneumatic adaptor for that. I just used it and its so much better than a hammer and has much more control so you drive the bearing and seal straight in just a few seconds.
09-25-2012, 01:41 PM
Join Date: Sep 2012
Posts: 1
Excellent job!!!
---
Had to replace the left rear parking brake shoes and dust cover following a catstophic failure of both that resulted in a huge chunk being blown out of the inside disk hub! The pics and explainations you provided allowed me to svae $300.00 on what the shop wanted to perform the same work. Actually went ahead and replaced both rear disks and pads while I was into it. COuld not have doen it without y'all!
Thanks!!!
09-28-2012, 02:35 PM
Join Date: Jul 2012
Posts: 9
I am in the process of doing mine as we speak although it started raining so I am on a break. I would like to gice a heads up to a problem I ran into. I had taken the pinion bolt and shaft out, then the passengers side axle but when I got to the drivers side and pushed it in it didn't seem to go far enough in to remove the c-clip, I couldn't figure out why I couldn't get in far enough, I went back o0ver to the wheel side and realized the wheel stud, where it goes through the hub was bottoming itself out on the back, I just turned it a small amount and it pushed in the rest of the way.
I am having difficulty getting the bearings and seals out even with the bearing slide puller but I will be back at it tomoorow.
10-01-2012, 09:56 PM
Join Date: Jul 2011
Location: alabama
Posts: 4
10-02-2012, 09:08 PM
Join Date: Jul 2012
Posts: 9
Thread
Thread Starter
Forum
Replies
Last Post
F-250 / Super Duty / Diesel
Posting Rules
You may not post new threads
You may not post replies
You may not post attachments
You may not edit your posts
---
HTML code is Off
---