86 F150 rough idle/vacuum routing help
11-05-2010, 06:02 PM
Join Date: Nov 2010
Posts: 3
86 F150 rough idle/vacuum routing help
---
Hello all, I just bought this truck and am trying to get it back into shape for emissions and driveability. When I start it cold it idles smooth as silk but as soon as I gas it, it idles really rough. If I shut it off and restart it's smooth again until it gets gas. It's smooth at mid and high rpm. I'm guessing it's a vacuum issue. I've checked everything else and the vacuum mess is all that's left, I thinK
So on to the problem: I need help identifying the vacuum components in the red line and where they might be located. The PO pulled out all but about 6 inches of the red vacuum line
Of course it's the most complicated of them all.
So from the solenoid the red line routes "V CK V" to a T one to "MAP" (dead ends) the other to "INT MAN" to another T one side to "P/D MTR" (dead ends) the other to VRDV and "A/CL DV" (dead ends). I went through a chiltons but it wasn't any help at defining what these parts are.
BTW it's an I-6 auto.
Here's a pic of the routing from the engine bay:
(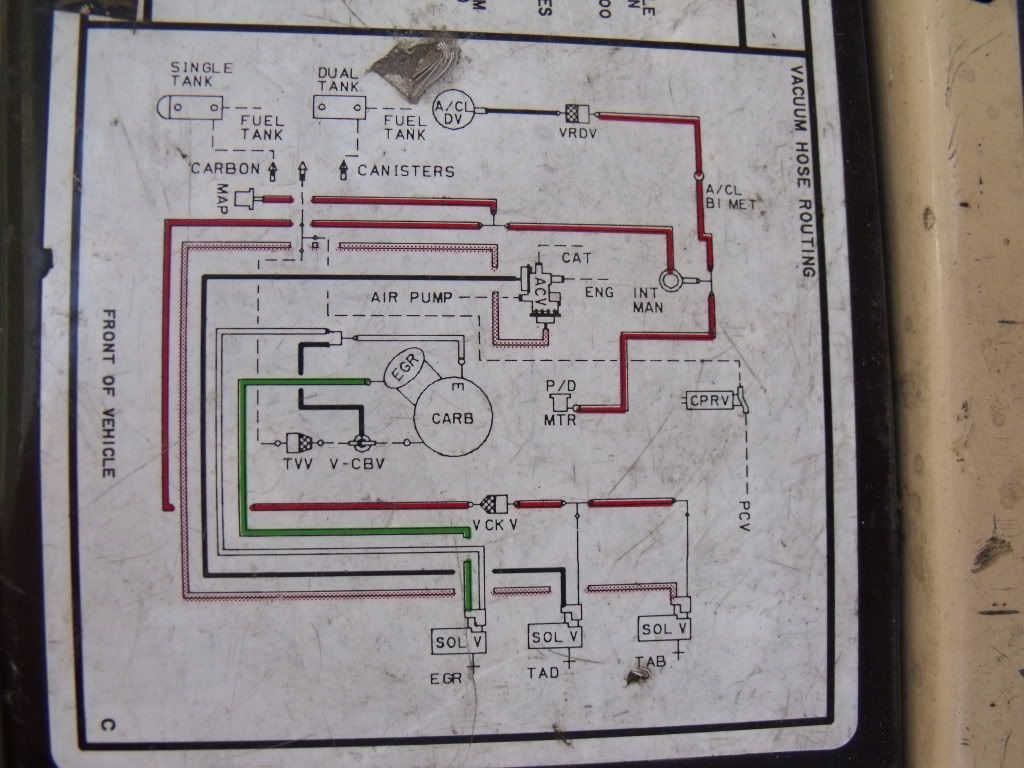 11-05-2010, 10:43 PM
Automotive Terms & Abbreviations

Put that info (& the YEAR) into a signature so it shows with each post. You can omit "Ford F150" since that's assumed on this forum.
---
Last edited by Steve83; 11-05-2010 at

11:23 PM

.
11-06-2010, 10:08 PM
Join Date: Nov 2010
Posts: 3
Thanks Steve! The terms and abbv. post really helped a lot. After finding out what those parts are I realized that almost the whole vacuum system is routed wrong and I've got some parts to buy.
It's got about 80K with a C6. Trim is unknown. I'm guessing it's base but it does have A/C. Maintenance history is unknown. Only mods I know of beside the vacuum tube gutting are the air pump belt was gone (hooked back up) and and the cat was deleted.
The other half of the vacuum diagram: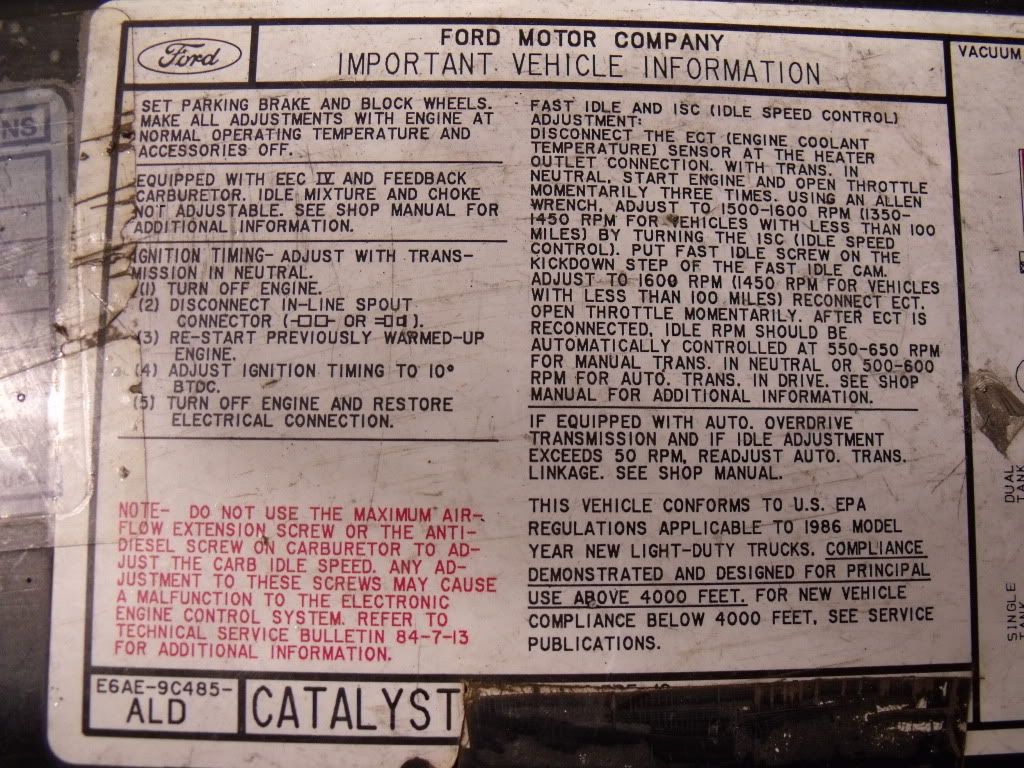 Here's what I've done:
Pulled the carb off and found it was about to fall apart, tightened it all back up and put it back on, no change.
Checked compression, all normal.
Basic tune up: Replaced plugs (all looked normal), coil, distrib cap, no change. I reused the plug wires. They weren't leaking and seemed to be in good shape.
Pulled all the connection plugs in the engine bay, checked condition, filled them up with di-eletric grease, no change.
There are quite a few plugs just dangling. There's nothing around them to connect to, who knows where they went.
Thanks again for the help, greatly appreciated.
---
Last edited by h8monday; 11-06-2010 at

10:11 PM

.
11-07-2010, 12:47 PM
Get some alcohol or paint thinner or gasoline or some other solvent & try to clean that black stuff off the bottom of the sticker beside "CATALYST". Make sure it's not taking off the sticker or the ink. That's the calibration info.
There is no "normal" compression. Read this caption:
"Dielectric" means insulation, which is the opposite of conducting, which is what you want the connectors to do. The correct grease is "electrical" grease, but don't worry about it until it creates a problem.
Electrical Grease (F8AZ-19G208-AA)
If you post detailed pics of the connectors (location, shape, wire colors), I might be able to tell you what they're for. You can use this to ID any location on the truck:
11-07-2010, 02:02 PM
Join Date: Nov 2010
Posts: 3
That part of the sticker is gone, it's scraped off. What I meant by "normal" compression is they are all in spec and no dramatic differences in pressure. I've always used dielectric grease on connectors to keep moisture out. I'll try some of that other stuff.

Thanks again for the help. Diagnosing this one is tough. Mechanically the engine is fine. There's no adjustments on the carb so that's not it. Fuel feed and spark are good and the fact that it idles perfect at first start. There's a glitch in the controls somewhere. It's always something simple but next to impossible to find, for me at least :o I'll get some pics of the connectors up.
---
Last edited by h8monday; 11-07-2010 at

02:04 PM

.
11-07-2010, 03:52 PM
Thread
Thread Starter
Forum
Replies
Last Post
Posting Rules
You may not post new threads
You may not post replies
You may not post attachments
You may not edit your posts
---
HTML code is Off
---