E4OD is dead, need some input. 1990 4.9L
11-10-2009, 11:01 PM
Join Date: Oct 2009
Location: planet earf
Posts: 11
E4OD is dead, need some input. 1990 4.9L
---
hey guys, i have a 1990 f150 std cab longbed with the 4.9L. it was a gift from a close friend. anyways he had it for a few years before the tranny decided to give up the ghost. i helped him pull it out and that was as far as we ever got. his health declined and decided to move out of state to be closer to his family. so now i got it and want to get it running without going nuts.
i found a few early e4od's for around $500-800, lol. but i do not want another early pos autofail e4od, and spending 1500 bux or more on a rebuild is way out of the question. after digging around a bit more online i found both a 95 and a 96 e4od for around 250 at a boneyard here in texas. but after looking around on here i found that the 92+ use an electronic speedo, so the swap is possible but i will lose my speedo functionality cause there is not a way for the speedometer cable to be used on the later trans without major modifications. we have to have a speedo cause there is a possible chance that the wife may drive it every now and then and we don't need any speeding tickets.
i just want to get some ideas from you guys, what should i do? the truck will only see minor use as a work truck, whenever we need it. i kinda got tired of having to bum trucks off my friends and family when we need one. so its a blessing in disguise as long as i can get her running.
the body is kinda rough and it has the open 3.08 rear and the motor is the 4.9 with less than 20,000 miles on a fresh rebuild. i was thinking maybe the c-6 and a longer driveshaft and leaving the mlps in the neutral position which i found out to be a way around the puter looking for the tranny to be there temporarily until i can get the computer from a manual tranny equipped truck. but then i will have the issue with having to find the holy grail kickdown cable for the efi 6 cylinder. so both swaps will have setbacks. but not having a kickdown seems to be the lesser of two evils.
the only mods that will be done on it is an exhaust, which it really needs, and an intake and some 15x10 wheels and 275/60/15 rwl tires, like i said, it will only see occasional use and maybe some possible towing of a light trailer.
here is the only pic i have at the moment.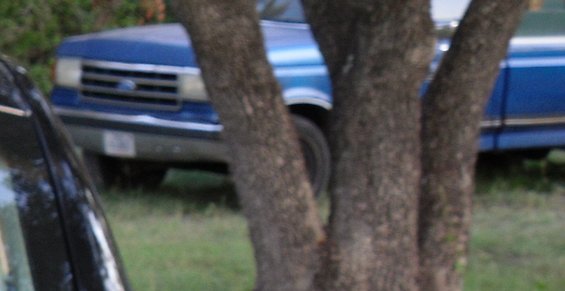 so what do you guys think? i have also thought about doing a possible manual swap but i'm still on the fence. as that means more mods and fabrication. thanks in advance.
11-11-2009, 09:22 PM
Join Date: Oct 2009
Location: planet earf
Posts: 11
11-12-2009, 10:40 PM
Join Date: Oct 2009
Location: planet earf
Posts: 11
11-17-2009, 08:19 AM
Join Date: Oct 2009
Location: planet earf
Posts: 11
11-17-2009, 12:49 PM
Join Date: May 1999
Location: Copley, Ohio
Posts: 2,477
Narrow it down. Exactly what do you want to do?
The desirable ('95-'96) E4OD trannies are not compatible with your harness, so aside from exchanging output shafts and tailshaft housings, you'd need to do some re-wiring to use one. Your best option would be to rebuild yor present tranny and upgrade the guts to '95 specs but you've ruled that out. The C6 could be viable, especially with the 3.08 gears, but you're going to want either a C6 or manual tranny PCM. Your present PCM may give you some major drivability issues if it cannot find a signal for a gear or some of the other tranny-related inputs. As for no kickdown cable, it sounds like a recipe for overheating the C6 and burning it up in fairly short order; they aren't designed to run constantly in third gear.
05-29-2010, 04:48 AM
Join Date: Oct 2009
Location: planet earf
Posts: 11
wow, been awhile since i been on here, lol, finally got the truck up and running a few hours ago. we ended up going with another e4od. so far so good, although i'm gonna have to change out the front u-joint since it screwed up when i put it in.

i do have a few other issues, like weird idle as it likes to run fine for a few minutes then does a loopy up and down idle which eventually stalls it out. may be due to the old gas in the tank but the front is full so it will be some time before it runs out, the gauge marks almost empty though, that's also something else that needs to be fixed.

the battery doesn't charge too well at idle, think i may need some cables or another alt. it has a lot of crud in the radiator, timing is off, and it has an exhaust leak, and bent power steering pulley, and the list goes on, lol, but it does drive around the yard ok though lol. now to fix all the little stuff, hehe.
05-29-2010, 12:57 PM
Join Date: Aug 2008
Location: Long Beach, Ca.
Posts: 338
---
Last edited by ymeski; 05-29-2010 at

01:09 PM

.
05-29-2010, 04:24 PM
Join Date: Oct 2009
Location: planet earf
Posts: 11
cool, thanks for the info and links. i was thinking the iac was funky. i'll add performance goodies slowly as i go on, i'm realistic about the performance potential of that 6. so the main thing will be getting it running right. i'm going to do a plug change and clean and mark the balancer so i can set the timing, after that i will move on to the iac.
Thread
Thread Starter
Forum
Replies
Last Post
Chips, Tuners & Programming
Posting Rules
You may not post new threads
You may not post replies
You may not post attachments
You may not edit your posts
---
HTML code is Off
---