Need sugestions for brake pad and rotar replacement.
11-26-2018, 05:33 PM
Join Date: Dec 2005
Location: Nebraska
Posts: 1,581
Need sugestions for brake pad and rotar replacement.
---
It's finally time to do a brake job on the ole girl, 2005 Lariat Screw 4x4 with 73K miles. This kit popped up the other day on my computer, Power Stop K1944-36 Front and Rear Z36 Truck and Tow Brake kit. Anybody have any experience with this kit or a suggestion for something better ? I run 35's and tow a 5300 lb boat in the summer. I put Akebono ceramic pads on when the truck was new to deal with the dust issue and they have held up great but you can now tell things are starting to get soft. Any suggestions would be helpful before I spend the money to upgrade. Thanks
11-26-2018, 05:47 PM
Join Date: Jan 2002
Location: Wilmington,NC
Posts: 4,606
Don't go cheap on the rotors. Most rotors for sale these days are chinese garbage, ie Autozone's best. Ceramic pads don't dust as much, don't fade as quickly and don't stop as well as semi-metallic. Ceramic pads don't absorb heat as well as semi-metallics and that is why they don't fade as quickly when used heavily. However, the rotors absorb the extra heat and the rotors will get hotter when combined with ceramic pads. Choose your poison.

When i had a Mark VIII Lincoln, it had front rotor warping issues because they were undersized for the car, Lousy brakes is a typical Ford issue going back many decades. I replaced the fronts with powerstop rotors ordered from Summit and I didn't have any warping after that but I didn't put that many miles on the car before trading it.
11-26-2018, 05:51 PM
If ceramic pads did the job for you, I'd replace the pads with ceramics and the rotors with premium aftermarket. I had some really good luck with Centric Posi-Quiet ceramic pads and Premium rotors. They lasted 115k miles on the front of my truck.
11-26-2018, 05:53 PM
Senior Member
Join Date: Jan 2009
Location: Concord, nC
Posts: 10,622
I put the full kit with calipers that Power Stop makes on my '04 this summer. I have about 2k miles on them and the brakes they replaced were not worn out. I just replaced them since I was doing other work and wanted to replace the calipers all around . They bite much better. I ran the Centric Rotors with Wagner pads prior.
11-26-2018, 07:21 PM
Join Date: Mar 2001
Location: Puyallup, WA
Posts: 4,492
I put a set of the PowerStops Z36 pads and rotors. Towed with them this summer and they are much better than the OEM's I had on there since new..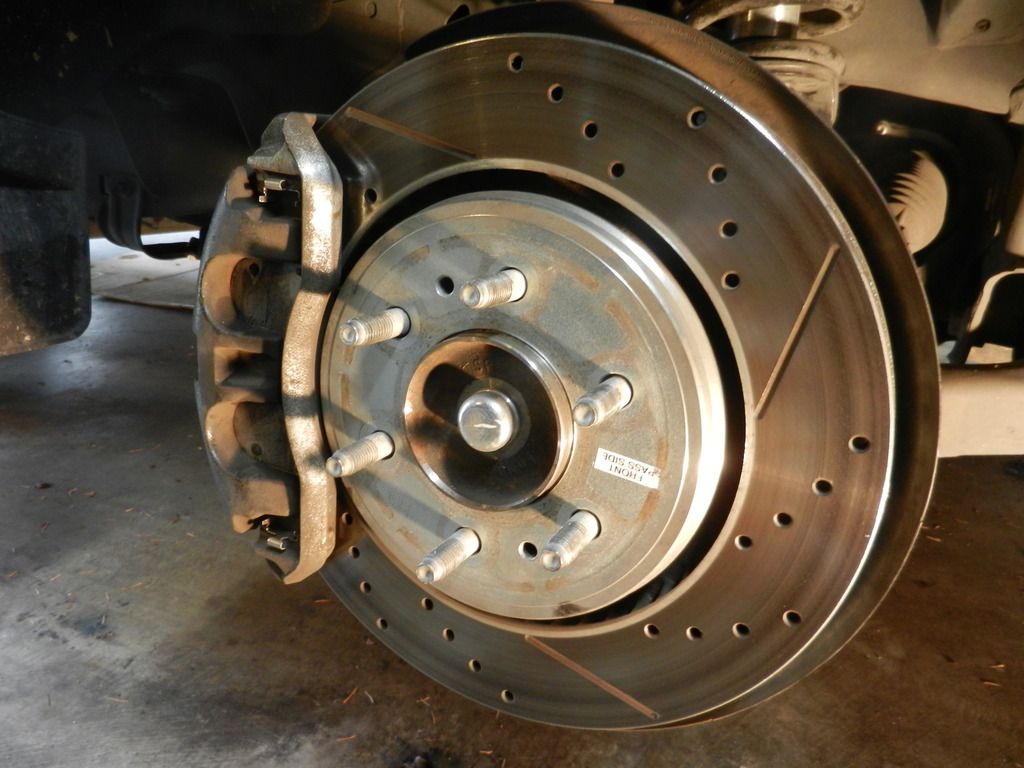 Think I got them for just a tad over $400 from Amazon earlier this year.
Good luck! Mitch
11-26-2018, 10:09 PM
Join Date: Mar 2001
Location: Puyallup, WA
Posts: 4,492
Yeah, I had to pay sales tax, so that sounds about right. I got the free shipping too. Mitch