Alignment: How often do you have it done?
06-21-2010, 04:22 AM
Alignment: How often do you have it done?
---
I had to replace a tire a few months back because it was badly cupped due to a worn ball joint and mis-alignment. I installed Camburg ball joints and got the alignment done...and now only 5k miles later my 2 front tires are both showing signs of slight cupping. I got them aligned again, but it is frustrating me. I rotate every 3k and have gotten a ton of miles out of these mud terrains, but my alignment seems to keep going bad. How often should I be doing it? Maybe because my truck is offroad pretty often I should be having the alignment checked pretty frequently?

Any thoughts are appreciated.
06-21-2010, 05:53 AM
06-21-2010, 08:04 AM
Join Date: Dec 2003
Location: Mount Airy,MD
Posts: 6,550
06-21-2010, 12:14 PM
Technical Article Contributor
Join Date: Mar 2009
Location: Olive Branch, MS
Posts: 1,775
06-21-2010, 02:36 PM
06-21-2010, 05:56 PM
I certainly dont "pound" on it, but trails littered with potholes are frequent as well as old logging roads, uphill over rocks, washouts etc. The fact that they are large heavy tires probably doesn't help. I guess I will have it checked every 6 months or so just to make sure. Replacing $350 tires because of cupping is not something I want to have to keep doing. For a while my truck sounded like it had 3 KM2s and 1 mud grappler. The one badly cupped mud tire was ridiculously loud. I even took a video.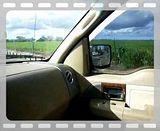 Thanks for the replies.
06-29-2010, 01:19 PM
Join Date: Dec 2004
Location: Soldotna Alaska
Posts: 1,237
06-29-2010, 01:41 PM
Join Date: Sep 2001
Location: cairo,ga
Posts: 28,203
06-29-2010, 06:34 PM
I use a plastic ruler to check the levelness of my tread, always spot on flat
06-29-2010, 06:37 PM
06-30-2010, 11:48 AM
I bought a package "lifetime" tire rotation and balance when I got my Nittos at NTB and also purchased their lifetime alignment.

I have my tires rotated every other oil change and balanced. The alignment is checked and corrected every year. If you have roads like they do in NJ then it's always good to have it checked. Service techs say to have it checked every 6 months, alignment that is but I think that's BS.


Regardless its always best to pay the extra 30-50 bucks to get the lifetime alignment package at places like NTB, firestone or goodyear since it covers the truck for life HOWEVER make sure you ask the following:

"Does the lifetime alignment cover me if I change any of my suspension parts?"


NTB say yes so when my Bilstein Level Shocks get here they will do the alignment for free however firestone told me no and I would have to pay again.
06-30-2010, 02:01 PM
Join Date: Jun 2008
Posts: 445
06-30-2010, 07:18 PM
Senior Member
Join Date: Sep 2009
Location: Southwest Ranches, FL
Posts: 2,576
06-30-2010, 08:20 PM
Technical Article Contributor
Join Date: Nov 2002
Location: Wisconsin
Posts: 2,741
I do an alignment once when I get new tires. If you do and alignment every year, and pay to have tires rotated every 5k, then you spend as much on all that as a set of new tires cost. I think you either have to balance these costs, or do them your self.

If you still have problems with cupping, have your idler arm checked. I may be the cause of you cupping problem and will continue to ruin your tires no matter how many tire alignments and rotations your have done.
Thread
Thread Starter
Forum
Replies
Last Post
Posting Rules
You may not post new threads
You may not post replies
You may not post attachments
You may not edit your posts
---
HTML code is Off
---