Can we get a fender flare thread going?
02-19-2008, 12:01 AM
Technical Article Contributor
Join Date: May 2006
Location: High Plains of West Texas
Posts: 4,390
Originally Posted by Shinesintx
All of the fender flares in this thread are sweet. Thanks guys for making want them now. I gotta get some rims with backspacing and then the flares. Does spending money on our trucks never end?
NEVER...
Ive got a s/c and a sound system in the works for this summer.....
The SS flares look great, I actually purchased some, but sent them back b/c i was less than impressed with the quality of the "unfinished" flare. In test fits I couldnt see how anyone could get them to line up correctly. Larat is king's truck is actually the one that sold me on the SS flares, but I chose to trade them for the bushwackers and have no regrets. All the truck's look great though!
02-19-2008, 08:44 AM
Join Date: Feb 2008
Location: Missouri
Posts: 17
Originally Posted by bjp207
Those are bushwackers too
Thanks, unfortunately (for the flares) I've got to trim the front ones when I install my new bumper that is being welded up as I type!!
---
Last edited by ptpalms; 02-19-2008 at

08:46 AM

.
04-08-2008, 07:14 PM
Join Date: May 2007
Location: NE Ohio
Posts: 240
Originally Posted by twintower
Hey got the bushwackers pocket flares....ran about 350 and about 200 for paint....I thought the back ones were a pain to put on....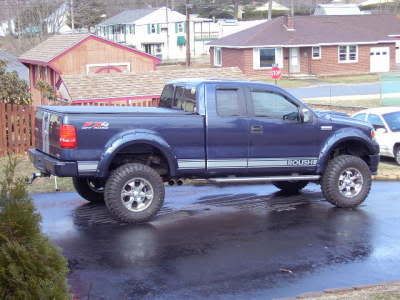 Badass truck! Post some more pics!
Carl
04-09-2008, 05:01 PM
Join Date: Sep 2005
Location: Wichita KS
Posts: 2,927
Guess I'm the only one that has taken the pocket flares off. They leave a nice permanent rub mark on the paint right where the rubber trim meets the fender. So if you want to avoid the rub marker, keep your truck pristine clean. I can't seem to do that so I am going to get my truck sprayed with line-x here real soon.
04-04-2009, 08:26 PM
Join Date: May 2001
Location: Hudson, WI
Posts: 177
Anymore flares to post?!? I'd really like to see Bushwacker pocket flares on a leveled-only truck. Having a hard time deciding on mine. Some say pockets only if lifted, extend-a-flare if only leveled? I need wider flares, tires are out a good 2-3 inches, looks like Bushwacker are about the best in this regard.
---
Last edited by SkiDood; 04-05-2009 at

10:39 AM

.